HEATH OUTDOOR PRODUCTS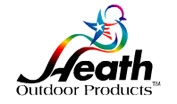 Refine or Narrow by Pet Type:
Refine by Type:
Refine by Size:
Heath Manufacturing Bird Feeders and Bird Suet
Featured Product(s):
1 Products Found:
13 in. Heath Manufacturing Bird Feeders and Bird Suet - GregRobert Pet Supplies
Low prices on HEATH OUTDOOR PRODUCTS products. Buy HEATH OUTDOOR PRODUCTS at GregRobert Pet Supplies - the leader in low prices, great customer service and fast shipping. Heath Manufacturing Company specialies in bird feeders, bird houses, purple martin houses, redwood planters, hummingbird feeders, bluebird houses, wren houses, suet cakes and bird feeding accessories. Heath Outdoor Products' caked suet product line includes straight suet with no additives and various mixtures containing seeds, grains and nuts formulated for specific species of birds.
GregRobert Discount Pet Supplies is proud to offer a variety of HEATH OUTDOOR PRODUCTS pet products at discount pricing.





---